Blog Categories
Entries matching the category "mid%20west.%20limerick"
Posted on April 03, 2009 by Alan Kelly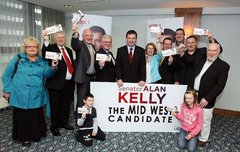 Today we formally launched my campaign in Limerick and I was delighted to have my party leader Emaon Gilmore there. It was also attended by Jan O'Sullivan TD, as well as a host of Cllrs and local candidates. I was delighted also to have a number of the Kemmy family present as well to show their support.
Permanent link | Categories: Arts Sport & Tourism • Education • Enterprise Trade & Employment • Health • Limerick • Joe Kemmy • Jan O Sullivan • Joe Leddin • Thomas Hannon • Mid West. Limerick • North Tipp • North Kerry • Joe Kemmy • Jim Kemmy • Tom Shortt • Ginger McLoughlin