On the Road with Cllr Seanie Lonergan
Posted by Alan Kelly on March 11, 2009 at 08:28 PM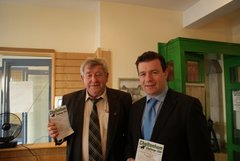 Yesterday I was campaigning in South Tipperary with Seanie Lonergan, who is our local Councillor in Cahir. Seanie is an excellent worker and effectively knows everyone in the area. I have evey confidence that he will get re-elected.
The response in the area was brillant. I know quite a few people around there and made many friends in college from that area. Many people knew me also from listening to me on Tipp FM and also Tipp Mid West radio.
An example of Seanie's work in the area was brought home to me when I entered Cahir post office and as I was entering it a woman said to us 'sure he helped keep this open'. That showed the value of someone who would fight for local services for local people. I keep saying that rural Ireland is under attack - post offices, shops, broadband, sewerage schemes, roads, small industry etc. Here is an example of someone who would not give in and showed the basic rights that all rural people have to the simple service fo a post office - which as I have always said provides a social service as much as a persoanl/business service.
Permanent link | Categories: Community Rural & Gaeltacht Affairs • Tipperary • Seanie Lonergan • Cahir • South Tipp