Jonathan Meaney's Campaign Launch
Posted by Alan Kelly on March 21, 2009 at 01:24 PM

Last night I was back in North Tipperary to help launch Jonathan Meaney's campaign in the Newport electoral area. It was a great night and Jonathan made one of the best speeches from a young candidate that I have ever heard.
He spoke with passion about being from the area, about how he wanted to continue the good work of our local retiring Cllr. Sean Creamer and how he would never let the people down. Speaking as a young father, he stated that one of his main campaigns would be local amenities for local areas - this is something he is very strong on and has spoken about at length before.
I think the most impressive thing about last night was the manner in which Jonathan spoke about about being a young person trying to get on in modern Ireland. He has unfortunately been laid off himself in the last few months and knows how difficult it is to for young people to keep everything going at the moment, when they have inflated mortgages, bills, creche fees etc. As a 28 year old he can certainly relate to young people and their issues.
Jonathan gave a guarantess to the people of the Newport electoral area last night. It was this. If he does not deliver in the next 5 years, he will not put his name forward again for election. That is a credit to the man - who I believe has great integrity, passion and belief in what he stands for.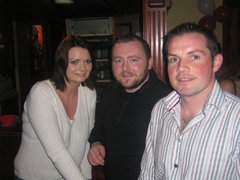 It was also great to see so many people there last night from Portroe, Newtown, Silvermines, Newport and Ballina. Jonathan has a huge family as well and they are a credit to him.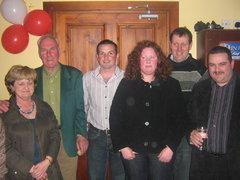 Permanent link | Categories: Jonathan Meaney • North Tipp • Sean Creamer • Portroe • Newtown • Silvermines • Newport