Blog Categories
Entries matching the category "newport"
Posted on March 21, 2009 by Alan Kelly

Last night I was back in North Tipperary to help launch Jonathan Meaney's campaign in the Newport electoral area. It was a great night and Jonathan made one of the best speeches from a young candidate that I have ever heard.
He spoke with passion about being from the area, about how he wanted to continue the good work of our local retiring Cllr. Sean Creamer and how he would never let the people down. Speaking as a young father, he stated that one of his main campaigns would be local amenities for local areas - this is something he is very strong on and has spoken about at length before.
Permanent link | Categories: Jonathan Meaney • North Tipp • Sean Creamer • Portroe • Newtown • Silvermines • Newport
Posted on February 15, 2009 by Alan Kelly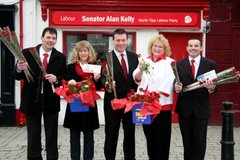 My colleagues in Nenagh decided to bring some cheer to the streets of Nenagh this Valentine's day by giving out valentines cards, roses and good spirit to the people of the town. It was done with a sense of fun and the people reacted very well to us.
Nenagh has a strong history of supporting the Labour party and certainly the sense from the people was one of the party making progress locally and nationally. There is huge respect for the Labour leadership of Eamon Gilmore and Joan Burton, who are performing excellently.
Permanent link | Categories: McGee • ODowd • Kennedy • Meaney • Nenagh • Newport
Posted on December 10, 2008 by Alan Kelly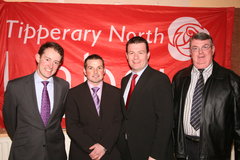 The North Tipp Labour party met recently in Portroe parish hall and selected Jonathan Meaney as a candidate for the Newport electoral area. The convention was chaired by Sean Sherlock TD, Spokesman on Agriculture and Food.
Jonathan is 28 years old and is the son of John and Noreen Meaney in Newtown. He comes from a family of nine and lives with his partner Angelina and their daughter Ella in Portroe village. He is a qualified carpenter and works in a family business. Jonathan is very active in the local community and has been involved in the GAA, Civil Defence and Foroige.
He comes from a strong Labour party family and has been a member of the Labour party for a number of years.
Permanent link | Categories: Meaney • Creamer • Newport • Portroe • Silvermines • Ballina • Newtown • local Elections