Canvassing in Kerry
Posted by Alan Kelly on April 11, 2009 at 01:13 AM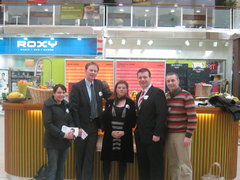 I spent the day canvassing in Kerry today. Having worked in tourism for so many years with Bord Failte and Failte Ireland, I am well aware of many of the issues that the industries in these areas face. There is a huge dependency on tourism in this county and it is up to people like me who have worked in the industry to agitite and ensure it continues to get the investment that it requires
Today I was in Killorglin, Killarney and Tralee. I have many relations living in these areas so it was great to catch up with them on the canvass (they're out in their droves already for me). Killorglin is a town that I have been visiting for many years as I worked very closely during my time in Bord Faitle with a number of businesses there. At this stage so many people actually know me there that they consider me a local.
I moved on fromt here to Killarney where I met up with my good friend Marie Moloney who has worked for the Labour party and SIPTU for many years. she was also accompanied by Sean Counihan, who is running for us in the town council elections there.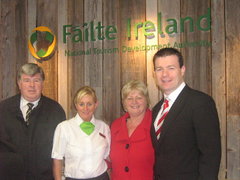 After that we headed on to Tralee, where we were met by a gang of Labour supporters, including my good friend Arthur Spring, who is standing in the town and ocunty council elections. I was very happy with the reception that we got in Kerry. Its an important place for me given my contacts and family ties and I intend to work very hard with the local organisation there to deliver results in the elections on June 5th.
Permanent link | Categories: Kerry • Marie Moloney • alan kelly • arthur spring • tralee • killarney • killorglin