ACT NOW OR PUT YOUNG FARMERS AT RISK
Posted by Alan Kelly on April 19, 2010 at 03:12 PM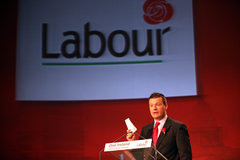 I took the opportunity during the Labour Party National Conference at NUI Galway, to highlight the grave situation facing farmers if the future of the Common Agriculture Policy (CAP) is not addressed now.
The clock is counting down towards 2013, and with every minute that passes, the situation for Irish farmers becomes more critical.
Agriculture is at the very core of rural life in Ireland and CAP 2013 is critical to ensuring future generations of farmers do not turn their backs on the industry.
We must encourage young farmers to get involved and provide them with a viable career path in farming.
CAP reform must protect small producers who form the backbone of rural Ireland and ensure they are not neglected in preference of larger operations.
It is consumers and produces who lie at the heart of effective competition policy but the bully boy tactics of the large multiples are crushing the competitive spirit of the marketplace.
The livelihood of many small farmers is largely dependent on the single farm payment.
If the single farm payment is under threat in the future negotiation of CAP, we must act now to protect Irish farmers.
I recently posed a question to the European Commission to give an assurance that it will take the Irish farmers into consideration when initiating any proposals on the future of the single farm payment.
Farming is not a nine to five job, farmers are working seven days a week to put food on their table but also on tables all across the island of Ireland.
The CAP process is not something intangible; it's about real people and their livelihoods.
We must start the debate today to get the CAP we want, we cannot wait until 2013 and get the CAP we can't afford.
Permanent link | Categories: Agriculture • Alan Kelly MEP • Labour • North Tipperary • CAP 2013 • Common Agriculture Policy • Ireland • farming