Blog Categories
Entries matching the category "ireland"
Posted on April 19, 2010 by Alan Kelly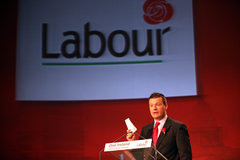 I took the opportunity during the Labour Party National Conference at NUI Galway, to highlight the grave situation facing farmers if the future of the Common Agriculture Policy (CAP) is not addressed now.
The clock is counting down towards 2013, and with every minute that passes, the situation for Irish farmers becomes more critical.
Agriculture is at the very core of rural life in Ireland and CAP 2013 is critical to ensuring future generations of farmers do not turn their backs on the industry.
We must encourage young farmers to get involved and provide them with a viable career path in farming.
Permanent link | Categories: Agriculture • Alan Kelly MEP • Labour • North Tipperary • CAP 2013 • Common Agriculture Policy • Ireland • farming
Posted on June 11, 2009 by Alan Kelly
I got back to my home village of Portroe early on the 9th to be met by a huge crowd of supporters and well wishers. I have to say it was one of the most special nights of my life. Before that I was met by a large convey of cars at the county bounds near Limerick to welcome me home. We proceeded in a convey through Nenagh and out then to Portroe. The village of newly elected Cllr. Jonathan Meaney, County hurling manager Liam Sheedy (and goalie Darren Gleeson), the brillant musician Gerry O'Connor and of course Aoife Kelly, our Rose of Tralee. It is a small parish but one of the most united in the country and I'm exceptionally proud to come from there.
Permanent link | Categories: Portroe • Nenagh • Sean Creamer • Jonathan Meaney • Labour • Ireland South • Munster • Tipperary
Posted on June 10, 2009 by Alan Kelly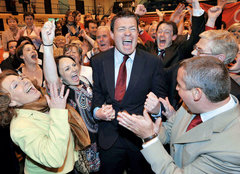 A big thank you to the people of Ireland South for choosing me to represent you in the European Parliament. It is a great honour and a privilege. It was a very enjoyable campaign and one that I will always cherish. I want to thank the thousands of people voted for me. I will do my best at all times to ensure they get the best representation at EU level, whether they are workers, fishermen or farmers. I also believe we can learn an awful lot more from Europe in a progressive way and I intend to demonstrate that.
Permanent link | Categories: EU • Munster • Ireland South • Labour • Eamon Gilmore • Alan Kelly