Blog Categories
Entries matching the category "commissioner%20andor"
Posted on February 10, 2010 by Alan Kelly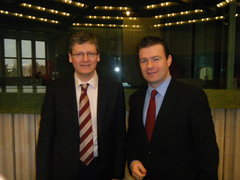 On Wednesday I met with Commissioner for Employment Affairs, Laszlo Andor. He is the Hungarian Commissioner and an exceptionally approacable and likeable person. My request for the meeting was principally to get an update on the Dell EGF fund and he told me that the fund was very flexible as regards its administration and also that it would be released this week to the Irish Government. I also got an assurance that the Waterford Crystal fund would be passed by the Commission soon and before the Parliament by March or April, which I broadly welcomed. WE also spoke about the SR Technics application and a number of other issues which I am persuing with the Commissioner on behalf Ireland and my constituents.
Permanent link | Categories: Commissioner Andor • Dell • EGF • alan kelly • Mid West