Blog Categories
Entries matching the category "mid%20west"
Posted on February 11, 2010 by Alan Kelly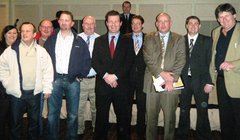 This is a huge week for the former workers in Dell, Banta, Flextronics, Irish Express Cargo and the other companies that were closed as a result of the Dell pullout of Limerick in January 2009. On Wednesday morning I met with the EU Commissioner for Employment, Mr. Andor and got assurances regarding the flexibility of the EGF scheme that can be used for job placement, training and starting your own business. These are the three key pillars under which workers can used their share of the €2.8 million that was allocated to them.
Permanent link | Categories: Dell • EGF • Mid West • alan kelly