Blog Categories
Entries matching the category "leap%20card"
Posted on November 30, 2011 by Alan Kelly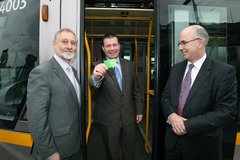 I was delighted to unveil the new Leap Card, the long-promised integrated ticketing for Dublin. After 12 years of promises, it's great to see this project final get off the ground, a positive move for integrated travel. I have worked extremely hard to get this project moving as I felt it was important to commuters. We have 500 customers testing the system for us at the moment and we'll take their feedback so that the final launch is as smooth as possible.
Permanent link | Categories: Transport • Leap card • Alan Kelly •