Meaney Selected to Contest Newport Electoral Area
Posted by Alan Kelly on December 10, 2008 at 11:14 AM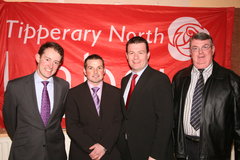 The North Tipp Labour party met recently in Portroe parish hall and selected Jonathan Meaney as a candidate for the Newport electoral area. The convention was chaired by Sean Sherlock TD, Spokesman on Agriculture and Food.
Jonathan is 28 years old and is the son of John and Noreen Meaney in Newtown. He comes from a family of nine and lives with his partner Angelina and their daughter Ella in Portroe village. He is a qualified carpenter and works in a family business. Jonathan is very active in the local community and has been involved in the GAA, Civil Defence and Foroige.
He comes from a strong Labour party family and has been a member of the Labour party for a number of years.
Speaking at the convention Jonathan praised the work of the outgoing Councillor Sean Creamer, who is retiring. He said 'I would like to thank Sean personally and also on behalf of the party members and the local communities where you have been a representative for the past six years for your hard work and dedication. I want to thank you for nominating me as a candidate for our party and I will do everything in my power to follow in your footsteps'.
Jonathan also set out the issues that motivated him to stand for election, which included the loss of community values and the failure to provide adequate facilities for children, families and senior citizens. He spoke of the fact that the local playground in Ballina was closed due to lack of resources and there has been unprecedented development in that village over the last 15 years. He also spoke of the lack of 'schools, creches, playgrounds, sports facilities in Newport, Portroe, Newtown, Silvermines and Ballina and yet they continue to give planning permission for more and more developments even though the water and sewage is at capacity. It simply doesn't make sense'. He also spoke of the need to invest in 'roads, lighting and footpaths so that people can walk and travel safely'. Finally, he said he wanted to see more investment in small industries that could bring jobs to rural areas and he lamented the lack of broadband.
He thanked Senator Alan Kelly for asking him to put his name forward and looked forward to working closely with him and the other labour candidates in North Tipp. He said he 'was proud to represent Labour and would leave no stone unturned in order to get elected. We simply must win'.
Sean Sherlock TD congratulated Jonathan on putting his name forward and said he was delighted to see young blood coming through. He said 'Jonathan is a fine candidate and an example to everyone of the type of person we need to put their name forward'. He welcomed the fact that along with Senator Kelly, there was a very youthful look to the Labour team in the area. He also said he was delighted to finally be in Portroe. He said 'My office is next door to Alan's in Leinster House and he's always talking about Portroe this that and the other, the Rose of Tralee, Liam Sheedy and a host of other people and things, so its a great occasion for me to finally be here'.
Cllr Sean Creamer said he was 'delighted to nominate Jonathan and that he would do whatever he could and more to see him elected. Now more than ever we need a Labour Councillor in this area to work with Alan and the team'. He also thanked the members for their support down the years.
Senator Alan Kelly wished Sean Creamer well and thanked him for his support and friendship. He said 'Sean is a unique individual, a proud Labour man and a proud Portroe man, who knows me all my life and I sincerely wish him and his family the very best for the future'. He also congratulated Jonathan Meaney and said 'we couldn't have picked a better candidate. Jonathan is young, energetic, dedicated, intelligent and most of all, he is a true Labour man who understands the values of the party'. He also thanked Sean Sherlock for coming to Portroe before presenting him with a Portroe hurling jersey to remind him of his visit.
Permanent link | Categories: Meaney • Creamer • Newport • Portroe • Silvermines • Ballina • Newtown • local Elections