Blog Categories
Entries matching the category "ballina"
Posted on December 10, 2008 by Alan Kelly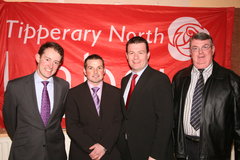 The North Tipp Labour party met recently in Portroe parish hall and selected Jonathan Meaney as a candidate for the Newport electoral area. The convention was chaired by Sean Sherlock TD, Spokesman on Agriculture and Food.
Jonathan is 28 years old and is the son of John and Noreen Meaney in Newtown. He comes from a family of nine and lives with his partner Angelina and their daughter Ella in Portroe village. He is a qualified carpenter and works in a family business. Jonathan is very active in the local community and has been involved in the GAA, Civil Defence and Foroige.
He comes from a strong Labour party family and has been a member of the Labour party for a number of years.
Permanent link | Categories: Meaney • Creamer • Newport • Portroe • Silvermines • Ballina • Newtown • local Elections