HSE Lacks Transparency: It is Time to Stand Up for Nenagh Hospital
Posted by Alan Kelly on December 20, 2008 at 09:08 AM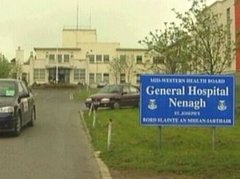 Nenagh Hospital as we know it is under threat.
The fact is that the HSE have over a year ago completed the infamous 'Teamwork' Report into acute services in the Mid West and they are still refusing to publish it. This beggars belief. They are refusing to publish a report that will decide the very future of how our hospitals work, yet they have put in place 'reconfiguration' teams to implement the recommendations of this as yet unpublished report.
There is no transparency in this and it is simply an exercise to stifle debate and push through Mary Harney and Brendan Drumm's ideologically driven policies and beliefs. This is certainly undemocratic and shows an attitude towards the public that leaves a lot to be desired.
Thie Teamwork report, which is a yet unpublished has been leaked to a large degree and the dogs on the street are talking about whats in it. For me as a public representative in North Tipperary and the Mid West, it is particularly disturbing.
In relation to Nenagh hospital, it is likely that the report will recommend the following:
*The closure of the full time A&E from 24 hours to a nurse led minor injuries unit
*The closure of the ICU unit
*The withdrawal of all non-day surgery
*Withdrawal of elderly care
There are similar recommendations proposed for Ennis and St. John's in Limerick, which will leave most of these services transferring to the Mid West general hospital in Dooradoyle, Limerick. This is despite the fact that this is a hospital that is suffering terribly from overcrowding already.
The report's recommendations are based on an analysis of health systems and reports i Britain, Canada etc. However, these systems are fundamentally different to Ireland's and there is no such thing as best practice. Cosequently, basing the report on such analysis is questionable in the first place. For instance, the role of GP's in Ireland, where they are private practioners is fundamentally different to their role in Britain and other health systems.
Furthermore, there is an issue with the way in which 'commuity care' is administered and being brought in across Ireland. First of all it is not universal in its application and great swaths of areas do not feel that they have services and so still look towards the hospital. Secondly, there is still a sociological and psychological understanding by local people of the need and requirement for their local hospital that provides basic and necessary services, especially A&E and critical care. There is simply not emough weighting of importance on these two issues by the HSE.
Hand in hand with these purported changes will be a complete change around for the ambulance services, who will be asked to operate bypass protocols around Nenagh and Ennis for example. This will mean that in the majority of cases, people from Terryglass or Miltown Malby will have to go passed Nenagh and Ennis respectively in order to get treatment in Limerick. We all know the risk in this, don't we.
So what can we do about it? It is up to us all to stand up and say this lack of transparency and debate is unacceptable. It is particularly up all of the local representatives and I certainly won't be found wanting in my support for a strong local hospital that provides critical services to local people.
Permanent link | Categories: Health • nenagh hospital • teamwork • Health