Blog Categories
Entries matching the category "nenagh%20hospital"
Posted on April 06, 2009 by Alan Kelly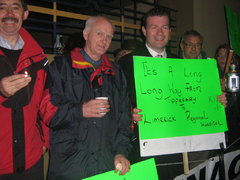 Today begun with the first debate of the European campaign. The debate took place in Limerick 95s studio and was attended by four of the candidates including myself. It was an eventful day after that and this evening was quite a sad one for me as the doors of Nenagh Hospital closed at 8pm. From now on the HSE intend to transfer all self admitted A&E patients to Limerick Regional.
Permanent link | Categories: Health • Health • Nenagh Hospital • Limerick • Clare • Ennis