Valentines Day in Nenagh
Posted by Alan Kelly on February 15, 2009 at 06:34 PM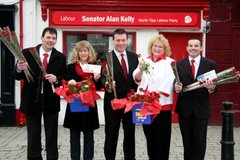 My colleagues in Nenagh decided to bring some cheer to the streets of Nenagh this Valentine's day by giving out valentines cards, roses and good spirit to the people of the town. It was done with a sense of fun and the people reacted very well to us.
Nenagh has a strong history of supporting the Labour party and certainly the sense from the people was one of the party making progress locally and nationally. There is huge respect for the Labour leadership of Eamon Gilmore and Joan Burton, who are performing excellently.
We are running three excellent candidates in Nenagh, Mayor Virginia O'Dowd, who is taking on both the town and county elections, while Lalor McGee and Noreen Kennedy are standing for the town council. Both come from long standing Labour families in the town. Lalor is a porter in Nenagh hospital and his dad Milo was a former Labour party town councillor. Noreen is the heart and soul of the Nenagh Hospital Action Group and has been its secretary since its inception.
Meanwhile, Jonathan Meaney is standing in the Newport area, which borders around Nenagh, similar to a horseshoe. At 28, he is the youngest candidate for the elections in North Tipperary by a long way. He is someone who believes passionately in the provision of services for young people and this will e one of his key themes.
Permanent link | Categories: McGee • ODowd • Kennedy • Meaney • Nenagh • Newport