Eamon Gilmore Visits Nenagh
Posted by Alan Kelly on March 01, 2009 at 01:03 AM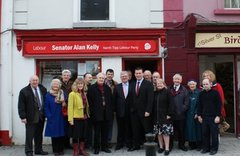 Our party leader Eamon Gilmore visited Nenagh on Friday (27th), where he was welcomed by a large selection of the party membership. He was particularly pleased to see his old trade union colleagues Frank and Ger Lewis, with who he worked for many years. It was great for the membership to meet with Eamon again and he certainly has shown his support to the constituency by the frequency of his visits.
While in Nenagh, we did a walkabout and got a great reception. He was an instant hit with the public as usual. Eamon was briefed on the issues facing the town, particularly unemployment, the future of the hospital and cutbacks in education.
We took the opportunity to have a look at some campaign shoes for both of us while inside in the local Gough O'Keefe and Naughton drapery store. We'll probably need more than one pair over the coming months!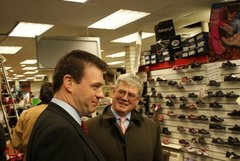 We visited the Nenagh Vocational School and were received by its principal Michael McNulty. Michael does excellent work there just to keep the school going. It has been let sown by successive governments and has been promised refurbishment now for over 25 years. the school has fantastic staff and students and they deserve a proper school. Eamon was showed around and saw at first hand the condition of the school, which has multiple leaks, an inadequate heating system, no working showers and cloakrooms that have been turned into classrooms. I have raised this issue myself many times and I'm fed up with the way in whic this school is constantly being left behind. We were accompanied to the school by Lalor McGee and Jonathan Meaney, two local election candidates and also former pupils.
Permanent link | Categories: Education • Nenagh • Gilmore • McGee • Meaney