Blog Categories
Entries matching the category "gilmore"
Posted on November 29, 2010 by Alan Kelly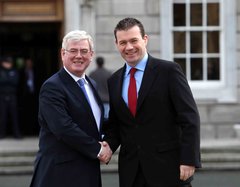 I have formally announced I will be putting himself forward to the local Labour organisation as a candidate for the forthcoming general election. I've made the announcement following a serious of phone calls and meetings with Labour Party Leader Eamon Gilmore last week.
I am honoured to accept Eamon Gilmore's invitation to put myself forward as a candidate for Labour in North Tipperary. This will be the most important election in North Tipperary and Ireland for a generation and I am delighted that Eamon has requested that I be part of his team for it.
Permanent link | Categories: Alan Kelly • Eamon Gilmore • Dail