The Fight For Nenagh Hospital Goes On
Posted by Alan Kelly on March 17, 2009 at 10:27 PM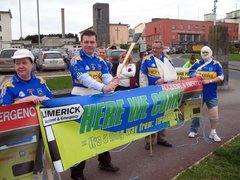 Yesterday we continued the fight for the retention of services in the Mid West Acute services with a protest outside the Mid West Regional Hospital in Dooradoyle. Here we gathered with the Ennis Action Group to protest at the imt closure of the A&E's in both Nenagh and Ennis,. It is planned to take away their 24 hour status from Apil 6th.
A large group turned out from both areas and we got good support from the Limerick public, which is what we aimed for. We nedto let the people of Lmerick know that it will not just Tipperary and Clar that will be affected by the closure of A&Es but also Limrick. hey'resrvice hithy arese wll be totally deminished when they have this amount of people coming in on top of them. This is an A&E that hs already had waiting ies of up to11 hours - isn't this just a ridiculous policy tobe pursuing.
All the promises from Minister Hoctor and Michael Lowry have proved fruitless. They told us that nothing would happen to Nenagh hospital until the new strategy was put in place - nothing of course has happened and they are still planning to close our A&E. Its a disgrace and so are the HSE and this this Government.
Permanent link | Categories: Health • Health • Nenagh Hospital • Limerick • Mid West • Ennis