Nenagh Hospital A&E Vigil
Posted by Alan Kelly on March 30, 2009 at 09:07 PM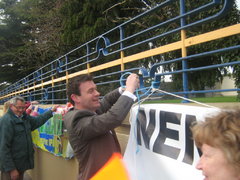 Tonight members of the Nenagh Hospital Action Group (NHAG) began a Vigil for one hour outside Nenagh Hospital. This Vigil will take place every night from 7-8pm to protest at the imminent closure of the 24 hour A&E. As of now, we are of the understanding that the A&E will close next Monday, April 6th. That would simply be disgraceful.
Here we have a large, widely dispersed, geographical area in North Tipperary that will be left without a local A&E from 8pm to 8am. Yet there is no strategy for how the ambulance services are going to be run how this will work with local doctors, how Limerick Regional Hospital is going to seal with the extra patients etc.
The lies that we have been told by the HSE and this Government are now clear for all to be seen:
They never had any intention of putting in place all their capital projects, such as the new A&E wing in Limerick, before they closed Nenagh and Ennis A&E.
The Government have no intention of putting in place extra beds to facilitate this transfer.
The Government have no intention of insuring all local primary care teams are fully in place across the Mid West.
The HSE have not sought or got any support from the local doctors in the area.
You can see Noreen Kennedy (secretary of the NHAG) and I on 'You Tube' talking about the vigil by clicking here.
Permanent link | Categories: Health • Health • Harney • North Tipperary • Mid West • Limerick • Ennis