Blog Categories
Entries matching the category "harney"
Posted on March 30, 2009 by Alan Kelly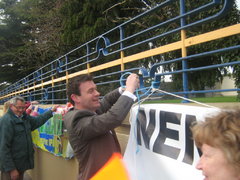 Tonight members of the Nenagh Hospital Action Group (NHAG) began a Vigil for one hour outside Nenagh Hospital. This Vigil will take place every night from 7-8pm to protest at the imminent closure of the 24 hour A&E. As of now, we are of the understanding that the A&E will close next Monday, April 6th. That would simply be disgraceful.
Here we have a large, widely dispersed, geographical area in North Tipperary that will be left without a local A&E from 8pm to 8am. Yet there is no strategy for how the ambulance services are going to be run how this will work with local doctors, how Limerick Regional Hospital is going to seal with the extra patients etc.
Permanent link | Categories: Health • Health • Harney • North Tipperary • Mid West • Limerick • Ennis