Nenagh A&E The End
Posted by Alan Kelly on April 06, 2009 at 12:46 AM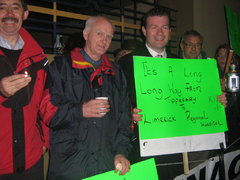 Today begun with the first debate of the European campaign. The debate took place in Limerick 95s studio and was attended by four of the candidates including myself. It was an eventful day after that and this evening was quite a sad one for me as the doors of Nenagh Hospital closed at 8pm. From now on the HSE intend to transfer all self admitted A&E patients to Limerick Regional.
As PRO of the Nenagh Hospital Action Group I am disgusted by this development. It is a disgraceful decision and I hope it is not one that will come back to haunt the decision makers in the HSE. I went on TIpp FM today to state that I will hold these political decision makers, whether in Tipperary or nationally and those managers in the HSE who enacted this new protocol, personally responsible if one patient's safety is ever put at risk.
People have decisions to make and they have to be accountable for their actions and I felt it was important to date stamp this prior to the closure of the A&E. The idea that Limerick Regional can cope is absurd. Where are all the Government's promises that they will provide resources to ensure that this can proceed as part of their flawed reconfiguration stratgey? Where is the new promised A&E wing in Limerick? Where are all the new ambulances? Where are all the new beds? Where will they ever find the money to implement their plan? The reality is that they won't and that they never intended to.
The Nenagh Hospital Action Group held a vigil tonight to mark the closure of the A&E.
Permanent link | Categories: Health • Health • Nenagh Hospital • Limerick • Clare • Ennis