Blog Categories
Entries matching the category "clare"
Posted on April 06, 2009 by Alan Kelly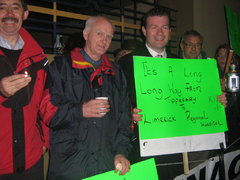 Today begun with the first debate of the European campaign. The debate took place in Limerick 95s studio and was attended by four of the candidates including myself. It was an eventful day after that and this evening was quite a sad one for me as the doors of Nenagh Hospital closed at 8pm. From now on the HSE intend to transfer all self admitted A&E patients to Limerick Regional.
Permanent link | Categories: Health • Health • Nenagh Hospital • Limerick • Clare • Ennis
Posted on February 27, 2009 by Alan Kelly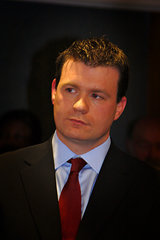 On Thursday (Feb 26th), we held a get together of Labour party members, supporters and other organisations and voluntary groups in the Mid West in the Marriott hotel in Limerick. A very large crowd attended to here myself and Jon O'Sullivan speak either side of our party leader, Eamon Gilmore.
There was a wide range of people at the meeting to here Eamon give a fantastic speech, which espoused the need for strong leadership in order to turn this country around. He also spoke of the need for the Government to take on many of Labour's economic policies (as they have been doing) in order to stimulate growth and help save jobs.
Permanent link | Categories: Enterprise Trade & Employment • Mid West. Limerick • Clare • North Tipperary • Eamon Gilmore • Jan OSullivan