Out Munstered by Leinster
Posted by Alan Kelly on May 02, 2009 at 10:36 PM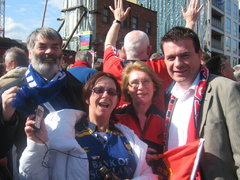 Thankfully I held back on booking the trip to Edinburgh. Going on form, Munster should have won this game easily but this was essentially a derby match and as the cliché goes, at a derby, form goes out the window.
The atmosphere at Croke Park was terrific though and credit to both sets of fans. I used the occasion of the match to pick the political brain of Proinsias De Rossa. As we walked about saying hello to friends and fans, I absorbed as much as I could from Labour's only Irish MEP, a man of equal integrity and ability.
Anyway back to the game. It was the first time in recent memory that it was this hard to be a Munster rugby fan. The players know themselves how poorly they played but you have to balance any criticism against the fact that this was one of the few bad games they have ever played in the Heineken Cup. Leinster were waiting in the long-grass however and they really out-Munstered the team in red. Hopefully they can go on and win it and crown an amazing season for Irish rugby. It is a truism of all sports that it is extremely difficult to beat a side three times in one season.
At least the day was finished off well, had a pint with the party leader, Éamon Gilmore in the Gresham after the game. Will have to get back to the canvassing tomorrow. Hope the premier can do a number on the cats tomorrow in the league. In 125 years of hurling, Tipp have never stood back from Kilkenny, so let's not start tomorrow.
Permanent link | Categories: Arts Sport & Tourism • munster rugby • eamon gilmore • alan kelly • prionsias derossa • munster