Blog Categories
Entries matching the category "munster"
Posted on March 19, 2010 by Alan Kelly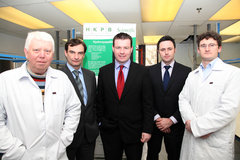 I am delighted to announce the creation of new jobs for Nenagh after HKPB Scientific revealed plans to open a facility in the town.
HKPB decided to bring the new facility to Nenagh after I personally intervened to draw their attention to the facilities on offer in the town.
I am delighted to have attracted a company of this quality to Nenagh. They are creating the type of jobs we need, high-value, export led jobs that will boost the entire regional economy.
These jobs will bring money into the community and will have a very positive effect for all businesses in the town and the local area. It's a massive boost for Nenagh and it comes at a time when good news is in short supply.
Permanent link | Categories: Enterprise Trade & Employment • Munster • Nenagh • Tipperary