Blog Categories
Entries matching the category "munster%20rugby"
Posted on May 02, 2009 by Alan Kelly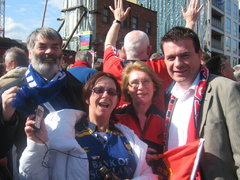 Thankfully I held back on booking the trip to Edinburgh. Going on form, Munster should have won this game easily but this was essentially a derby match and as the cliché goes, at a derby, form goes out the window.
The atmosphere at Croke Park was terrific though and credit to both sets of fans. I used the occasion of the match to pick the political brain of Proinsias De Rossa. As we walked about saying hello to friends and fans, I absorbed as much as I could from Labour's only Irish MEP, a man of equal integrity and ability.
Permanent link | Categories: Arts Sport & Tourism • munster rugby • eamon gilmore • alan kelly • prionsias derossa • munster