Time to Investigate M7 Workers Employment Conditions
Posted by Alan Kelly on February 03, 2010 at 09:53 PM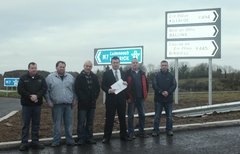 I am calling for a full investigation into the working conditions of workers on the new M7.  This arises following receipt of a number of complaints from former skilled workers who were paid the hourly rate of a general operative in breach of The Wages Act 1991. This in particular relates to hundreds of workers who have been let go off the site in the last six months.
The complaints come from former employees of Coffey Construction and relate not only to rates of pay but to a number of issues which include payment of a flat rate for overtime hours worked and incomplete contracts of employment. These are in breach of Labour laws and practices.
Following my intervention, Limerick County Council is now investigating the various complaints.  A number of the former employees are represented by SIPTU in relation to these matters but others are not union members. Nevertheless, the collective group intend to take appropriate action to ensure their legal entitlements are met in full. 
I have spoken with many of the workers concerned and they have been in contact with my office over the last few months. There are hundreds of workers affected. They way they have been treated is totally unacceptable and I have raised this issue with Limerick County Council who are charged through the NRA with responsibility for this part of the new road. It is up to them to ensure that its contractors are compliant with employment legislation and workers rights are being honoured.
I have recently been informed by Limerick County Council that they are to investigate the matter fully and I will be holding them to this. If this is not dealt with satisfactorily and the workers don't get every single penny they are entitled to, I will be supporting SIPTU's case against their employers and Limerick County Council and the NRA. I will take this case all the way to the EU if I have to.
Permanent link | Categories: Transport • M7 workers • alan kelly • Limerick • Tipperary