Blog Categories
Entries matching the category "m7%20workers"
Posted on February 03, 2010 by Alan Kelly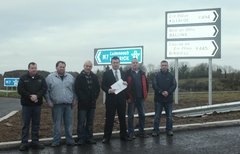 I am calling for a full investigation into the working conditions of workers on the new M7.  This arises following receipt of a number of complaints from former skilled workers who were paid the hourly rate of a general operative in breach of The Wages Act 1991. This in particular relates to hundreds of workers who have been let go off the site in the last six months.
The complaints come from former employees of Coffey Construction and relate not only to rates of pay but to a number of issues which include payment of a flat rate for overtime hours worked and incomplete contracts of employment. These are in breach of Labour laws and practices.
Permanent link | Categories: Transport • M7 workers • alan kelly • Limerick • Tipperary