Blog Archive
Posted on April 17, 2014 by Alan Kelly
I am delighted with the news that that all primary schools who currently operate a school book rental scheme will be able to benefit from the €15 million School Book Rental Scheme Fund.  When this fund was first announced it was targeted at the schools that didn't have a book rental scheme in place.  This caused concern among the  schools that had a scheme in place.  A number of schools in Tippe

...

rary contacted me, so this will be very welcome news for them. I have  spoken to Minister Quinn in relation to this issue on a number of  occasions. This will provide an extra boost to these schools which should allow them to expand or replace some books on their own schemes.
531 schools who previously indicated that they did not have book loan schemes were invited to apply for the funding.  Of these, three quarters of these schools have now applied. I am delighted that twenty two schools in Tipperary have been allocated a total of €211,111 to support the setting up of their book rental schemes. Minister Quinn has now decided that the balance of the fund, some €8.3 million, will be divided among all other primary schools that currently operate book rental schemes, in 2015 and 2016.  These schools are expected to receive a total of €18 per pupil or €20 in  DEIS schools over those two years.  This is on top of the annual book  grant of €15 million which is paid to all schools on a per pupil basis. This forms part of the Minister's wider agenda to tackle the  high costs of going to school for parents.
See More
Permanent link | Categories:
Posted on April 16, 2014 by Alan Kelly
Five years ago today young Ballinderry man Michael Dwyer was murdered in Bolivia. I believe in effect Michael was executed by the State and as time passes this becomes even more obvious. I have always supported the family in their quest for
...
the truth whether as MEP or local TD/Minister and I will continue to do so. The Dwyer family deserve to know what happened to Michael. I have huge admiration for the dignified but determined way in which they have pursued the truth.
Permanent link | Categories:
Posted on April 16, 2014 by Alan Kelly
 Last year I ensured €100k was provided directly from my Dept to completely relay the main road through Ballina (R494) from the Portroe end down to the roundabout outside Mills/McKeoghs as it was in an awful state for such a busy road and tourist trail. From the roundabout to the Grange road was done and now from Tuesday/Friday 22nd to 25th April the remaining sectio

...

n from the Grange road to the Portroe end all the way up through Cullenagh will be done. A stop/go system will be in place while the works are being undertaken. Please note that this funding was not provided through the Council's roadworks programme. It was provided directly from the Department of Transport. I was delighted to have been in a position to deliver this for the people of Ballina. Thanks to Jonathan Meaney for working with me on this.
Permanent link | Categories:
Posted on April 14, 2014 by Alan Kelly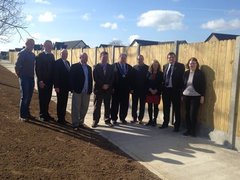 I  officially launched Nenagh as an Active Travel Town today and was delighted to open the new footpaths and cycleways in Nenagh town this morning. Funding from my department of circa €1.5m went in to delivering Nenagh as an Active Travel Town over the last three years. So much progress has been made in the Nenagh area and I hope that this programme and future programmes will bring many changes to the way we travel when we travel around the town and throughout the county.
Permanent link | Categories:
Posted on April 11, 2014 by Alan Kelly
I am delighted that four schools in Tipperary have been approved for funding.  Scoil Mhuire NS, Newcastle, Clonmel has been approved for funding for an 80m2 Mainstream Classroom. The following schools have been approved for emergency works.  CBS Primary School, Nenagh has been approved for funding for alterations to the building for special needs requirements.  Templetuohy National School has been granted funding for repairs to the roof and St. Joseph's NS, Ballingarry has got approval for funding for repairs to the heating pipework.
Permanent link | Categories:
Posted on April 09, 2014 by Alan Kelly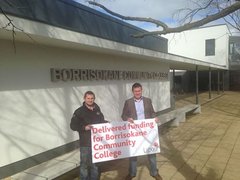 Following representations to Minister Ruairi Quinn TD from myself and local election candidate Greg Starr, I am delighted to announce that Borrisokane Community College has been granted funding to refurbish the old work house building which has fallen into disrepair. The funding also includes 4 new classrooms which will complete the building works in this new educational complex.

The workhouse which dates back to the 1800s had fallen into disrepair over the last few years.  As a result of recent storms the school authorities had to cordon off the area for safety reasons. This refurbishment will alleviate all the health and safety problems in the school and also supply the four new classrooms which are needed to fulfil the educational needs of the school.
Permanent link | Categories:
Posted on April 08, 2014 by Alan Kelly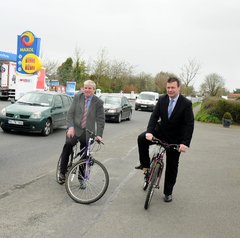 I am delighted to announce that the towns of Clonmel and Thurles are to benefit from more than €1.5 million investment in cycling infrastructure with news that each town is to be designated an Active Travel Town.   The initiative sees nine
...
Irish towns granted funding for local cycling and walking strategies, including new cycle-lanes, provision of walkways and behavioural change initiatives in local schools and workplaces to encourage people to switch their transport mode. The total national fund comes to €6.6 million.    The investment in Clonmel will see the construction of a new greenway within the town environs connecting the East and West sides of the town along the proposed 'Suir' Greenway at a cost of €500,000. There will be improved cycling connections all over the town and these will be connected to the current cycle track along the inner relief road. Cycling will also be made easier for children and students with improved cycle links to LIT's Clonmel Campus, linking up with the town's secondary schools. Over €1 million will be allocated to the investment in Clonmel.   The funding for Thurles will see the creation of cycle routes through the town from Brittas road, Kickham street/Boheravoroom Road, Parnell Street and Stradavoher Road/Clongour road to be linked with off-road footpaths cycle paths along the Suir paths at Thomond Road Suir Crossing, College Lane Suir Crossing, College Lane Suir Crossing and at Scoil Bhride Railway crossing. Thurles will receive €510,000 which will go as an allocation to North Tipperary County Council.   The 'Active Travel Towns' programme represents further investment in the National Cycle Policy Framework as set out under the Programme for Government.   It will have a hugely positive benefit on both towns making cycling safer particularly for children, allowing them to get to and from school easier.
Permanent link | Categories:
Posted on April 03, 2014 by Alan Kelly
It is with great sadness that I heard of the passing of my predecessor and friend, former North Tipperary TD and Leas Ceann Comhairle, John Ryan. My thoughts are with his wife Ina and children Gerry, Diane and Paula. He was a giant of politics in Tipperary He was one of the hardest working TDs ever to enter Dáil Éireann. He would work for anyone and never took political allegiance into considera

...

tion. If he could help you he would leave no stone unturned. He was trusted and revered in a way you rarely see and news of his death will bring great sadness to many families especially in his hometown of Nenagh. He devoted all his working life to promoting social justice and a fairer society locally and nationally. He entered politics as a town councillor before being elected to the North Tipperary county council before being elected to the Dail in 1973. He also served in Seanad Eireann. He will be fondly by people of all political parties and none. He was a great campaigner, winning and holding seats often unexpectedly. On a personal level, he was an inspiration to me and one of the main reasons I decided to enter politics. I canvassed with him from a young age and I always looked up to him. I visited him a number of times in the recent past and he was always friendly and generous with his time even though his health wasn't always very good. John Ryan was absolutely dedicated to his family and he was particularly proud of Nenagh where he came from and the CBS who educated him and he also was a former president of Nenagh rugby club. The people of Tipperary and the Labour Party both locally and nationally will forever be in his debt. Ar dheis De go raibh a anam
Permanent link | Categories:
Posted on March 20, 2014 by Alan Kelly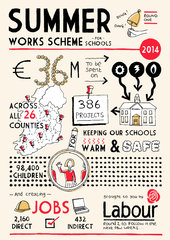 I welcome the announcement this morning by my colleague Ruairi Quinn TD, Minister for Education and Skills that 386 schools across the country will be able to undertake school improvements this summer.
 
Almost €36 million is being provided by the Department, this is the first round of funding for the Summer Works Scheme. A second round of the scheme is expected to be announced in the coming weeks.   I am delighted to see that 25 schools in Tipperary will benefit from the scheme.  The scheme covers essentialvelectricity, gas and mechanical works.  These works will be carried out in schools over the summer months, when the pupils are on holidays, so the disruption in the schools will be kept to a minimum.
 
More than 98,000 students in primary and secondary levels will  benefit from the scheme.  The Summer Works Scheme is part of this Government's continued commitment to improve facilities in schools throughout the country. These projects will stimulate economic
activity by supporting 2,160 direct and 430 indirect construction jobs in the local economy.  Almost €470 million will be invested in the
school building infrastructure under the school building and moderation programme this year,

The 25 Schools in Tipperary that have been approved are: 

Permanent link | Categories:
Posted on March 11, 2014 by Alan Kelly
People in Tipperary have just a few days left to make their views
known to the Government on cyberbullying. A public consultation
process on cyberbullying is currently underway and the deadline is
next Tuesday, March 18th.

Views gathered from members of the public will feed into the work of
an expert panel set up by Minister Pat Rabbitte to advise him on the
issue. The process is a valuable opportunity for those who are
concerned about the issue to contribute to the debate about
cyberbullying.   People can submit their views by logging onto
www.dcenr.gov.ie and checking out the section on the Internet Content
Advisory Group. Views can be easily submitted online.


Permanent link | Categories: