Blog Archive
Posted on November 25, 2014 by Alan Kelly
Tipperary primary schools are set to receive a funding boost to carry out small-scale repairs, with the announcement of the 2014 Minor Works Grant by my colleague Education Minister, Jan O'Sullivan today.
Every primary school in Tipperary with permanent recognition will receive a small amount of funding to carry out small capital or improvement works to the school, with payments issuing to schools next week.
This funding will help schools make improvements to their school buildings and grounds, and invest in their furniture, and IT and sport equipment.
Permanent link | Categories:
Posted on November 24, 2014 by Alan Kelly
I was delighted to be in a position to include rural dwellers for the €100 Conservation Grant. Rural dwellers have been paying for water for years, whether they have their own well or are part of a group scheme, the also pay have also had to pay for their septic tank.
The Water Conservation Grant replaces the tax rebate and social protection measures previously announced, as it is a more straightforward means of addressing water issues for all households on equal terms and will reduce households' outlay on water services both now and in the future.
Permanent link | Categories:
Posted on November 24, 2014 by Alan Kelly
It was confirmed to me recently that planning permission has been granted to An Post for a sorting facility for An Post in Benamore Roscrea. Permission has been granted for the change of use of the ground floor to a new An Post Sorting Facility with alterations to include all the necessary ancillary works. This is great news for Roscrea, it is a significant investment in the town and represents another major step for the town.
The building will be modified for use as a Delivery Service Unit to serve Roscrea. It will meet the needs of the mail services in the area and improve facilities for customers as well as improving the working environment for employees. An Post hope to open the facility in mid 2015.
Permanent link | Categories:
Posted on November 02, 2014 by Alan Kelly
Local businesses will benefit from the new Strategic Banking Corporation of Ireland (SBCI) when it begins providing loans to SMEs soon.
A total of €5 billion is set to be loaned to SMEs across the country over the next five years under the new bank, with an initial tranche of €800m to be released.
Local businesses across Tipperary have been crying out for to greater supports from Government to help them develop and grow in the future. As a local Labour representative, I have been particularly diligent on pressing home the need for us to implement the strategic banking fund that Labour had pledged to deliver in the Programme for Government.
Permanent link | Categories:
Posted on October 24, 2014 by Alan Kelly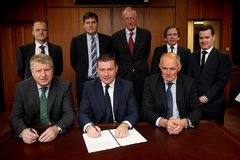 Nenagh's water supply is set for a major  upgrade which will be completed alongside the gas project for Nenagh.

Ervia, which is the company that now oversees gas and water supply, are combining both the gas and water projects as part of an estimated ten million euro investment.


Bord Gáis Éireann, now called  Ervia, plans to provide a gas connection to Arrabawn Co-Operative and Nenagh town, by the middle of 2015, and it will then roll out the gas distribution network to businesses and residents, allowing them to avail the clean and efficient energy source for the first time.

At the same time, through Ervia's other subsidiary - Irish Water, Ervia will also carry out a water rehabilitation project in Nenagh to improve water and waste water systems in the town as a combined project with the gas distribution works.

This is the first time that Ervia; as a multi-utility company; will take a combined approach to deliver water and gas infrastructure in Ireland. Integrating both projects under the Ervia umbrella will increase efficiencies and deliver direct cost savings to customers, while minimising disruption to businesses and the local community.

The project will highlight the benefits of Ervia's multi-utility model and the skills and expertise of both businesses and in tandem will deliver modern utility services and support the development of the local economy in North Tipperary in the future. 

This will be first combined utility project of gas and water in the country. When you are already digging up roadways to provide gas - it makes sense to upgrade the water infrastructure as well. This will deliver major savings and provide better water infrastructure for the people of Nenagh. Along with the gas, this is a key economic investment into Nenagh.
Permanent link | Categories:
Posted on October 24, 2014 by Alan Kelly
I am urging farmers in Tipperary to apply for grants being made available under the new Farm Safety Scheme.
Concerns over the issue of farm safety are at an all-time high following a number of accidents across the country recently. I am glad that the Department of Agriculture has responded to these concerns quickly by making the Farm Safety Scheme a reality, so that we can all work to reduce the number of farm-related accidents and deaths.
Permanent link | Categories:
Posted on October 22, 2014 by Alan Kelly
Today I  announced the recipients of grant funding under the 2014 Local Agenda 21 Environmental Partnership Fund. This grant scheme promotes sustainable development by assisting small scale, non-profit environmental projects at a local level. A total of 54 projects received €15,700 from my Department and a similar amount from Tipperary County Council. The projects are being co-funded by the Department and local authorities; with close to €400,000 being provided by the Department and a similar amount by the local authorities. In total €796,000 is being provided under this year's scheme to 697 projects throughout the country.
Permanent link | Categories:
Posted on October 20, 2014 by Alan Kelly
I have announced funding under the Lough Derg Marketing Strategy Group. I am delighted to annouce that funding has been allocated to a number of projects under the Lough Derg Marketing Strategy Group. I am particularly happy with this as I made sure that the Lough Derg Strategy was launched and I announced €2 million for it in May this year.
€25,000 has been allocated for the Millennium Cross Car Park & Walkway Surfacing. The car park is used by visitors who walk to the cross to see the panoramic views of Lough Derg. Improvement works are required at the car park. Walking surface to improve access along the Lough Derg Way from the Millennium Cross to Tountinna.
Permanent link | Categories:
Posted on October 20, 2014 by Alan Kelly
I welcome the announcement in the budget of an additional 200 Garda recruits for the training college in Templemore.
This is great news for the town of Templemore, particularly businesses in the area with the extra revenue in the town as well as the potential for tourism. 100 recruits will start in December and 100 more will start in January.
I also welcome the investment of €10 million for the Garda Fleet.  The  increased  investment  in  An  Garda  Síochána  marks a positive step forward  for policing in Ireland. New vehicles and ongoing recruitment will help  ensure a strong, visible policing presence is provided in communities right across the country, helping to reduce crime
Permanent link | Categories:
Posted on October 13, 2014 by Alan Kelly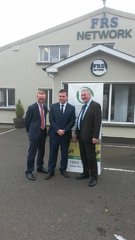 I am delighted to announce that a Tipperary company is among the preferred bidders to deliver the Government's Jobpath programme.

The company, FRS Recruitment, who are based in Roscrea form part of the Turas Nua Ltd Consortium who have been selected to deliver the Jobpath programme in the Southern half of the country for the Department of Social Protection.

Subject to the final contract being signed, this is likely to result in Roscrea being the head office for the southern region bringing up to 500 employees with their head office expected to be located in North Tipperary.
Permanent link | Categories: