Blog Archive
Posted on February 17, 2015 by Alan Kelly
I welcome the announcement of two new policies to support smaller schools.  
The new policies will see improved changes to the staffing schedule and a voluntary protocol for future sustainability of one teacher schools with reducing enrolments.
This will assist many schools in Tipperary.  Small schools play a vital role in many parts of the county and are key to local communities. It is a vital piece of social infrastructure to rural communities and particularly in isolated areas. The new policies today will provide some improvement to the staffing levels of our smallest schools. These improvements recognise the challenges faced by small schools that are more than 8km from the nearest school type.
Permanent link | Categories:
Posted on February 13, 2015 by Alan Kelly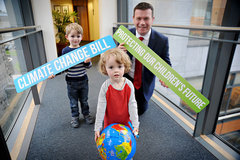 I am urging people to play their part in a national drive to tackle climate change, as new laws aimed at protecting the environment are set to come into force soon.
Tackling climate change so that future generations of people in Tipperary can live in a safer, cleaner environment is a critical issue.
It is vital that local people now work together to protect the environment in areas given that Ireland is bound by new low carbon rules for the very first time.
The Climate Change Bill - the first piece of legislation of its kind - continued to progress through the Dail this week.
Labour is acting now to protect the environment so that our children and future generations have a safe and sustainable future.
Permanent link | Categories:
Posted on February 02, 2015 by Alan Kelly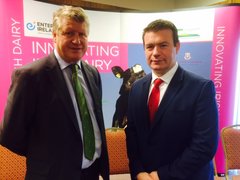 Congratulations to Arrabawn Co-op on a €35million innovation investment. This investment will help the dairy sector maximise post-quota opportunities will help support further growth at the co-op.
The overall investment will see a €25 million Dairy Processing Technology Centre (DPTC), supported by the Department of Jobs through Enterprise Ireland and the dairy industry partners including Arrabawn, at nearby University of Limerick. This will make a research and technology facility, manned by highly-skilled researchers, available to Arrabawn and the nine other co-ops to support the processors in achieving greater efficiencies.
 A further €10 million by Teagasc and the dairy industry shareholders in the expansion of the Moorepark Technology Ltd (MTL) pilot plant facility in Fermoy Co. Cork.  Both of these investments will offer significant research supports to support further growth at Arrabawn.
Permanent link | Categories: