Blog Archive
Posted on February 13, 2015 by Alan Kelly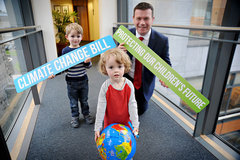 I am urging people to play their part in a national drive to tackle climate change, as new laws aimed at protecting the environment are set to come into force soon.
Tackling climate change so that future generations of people in Tipperary can live in a safer, cleaner environment is a critical issue.
It is vital that local people now work together to protect the environment in areas given that Ireland is bound by new low carbon rules for the very first time.
The Climate Change Bill - the first piece of legislation of its kind - continued to progress through the Dail this week.
Labour is acting now to protect the environment so that our children and future generations have a safe and sustainable future.
Permanent link | Categories: