Blog Archive
Posted on November 01, 2016 by Alan Kelly
I confronted Minister for Health Simon Harris on the review of Mid West ambulance services that is currently being undertaken amid the possibility of the withdrawal of advanced paramedic services int he area.
Permanent link | Categories:
Posted on September 27, 2016 by Alan Kelly
I commended the performance of towns and villages around Tipperary in this years Tidy Towns competition. 
Huge congratulations to Birdhill who won Ireland's Tidiest Village Award, which was an incredible achievement.  Congratulations to Gold Medal winners: Terryglass, Birdhill, Clonmel, Killsheelan and  Emly; Silvermines who won a Silver Medal, Nenagh and Roscrea who won Bronze medals. Congruatlations to Emly who also won the Clean Air Award, and to Tommy Lonergan from Kilsheelan who won the overall Community Heroes Award
Permanent link | Categories:
Posted on June 28, 2016 by Alan Kelly
I welcome the news that the Court of Appeal has refused an application to stop the building of the new bridge Ballina-Killaloe.
This is good news for Ballina and Killaloe and the residents and business people in the area.
I announced that funding (€42 million) had been secured in the Capital Budget back in September for the proposed new bridge. I had made numerous representations to my colleague Brendan Howlin to ensure that this plan was included. This project has been a priority of mine since entering politics and it was my ambition to see it progress.  
Permanent link | Categories:
Posted on May 03, 2016 by Alan Kelly
I am delighted to confirme that following my intervention Failte Ireland has committed to opening Nenagh Tourist Office for eleven weeks.
This is good news from Failte Ireland, I used to worked there.   I am delighted that this news has been confirmed, it is very important to have a tourism office in Nenagh.  I've put a lot of time and funding into promoting Lough Derg, I will always promote Lough Derg whether I'm in politics or not. 
Permanent link | Categories:
Posted on April 28, 2016 by Alan Kelly
I can confirm today
that 8 more schools across Tipperary will be able to undertake school improvements following the announcement  of the Summer Work's Scheme.

I am delighted that these schools in Tipperary will benefit from the scheme this year. 

Of the €80 million announced for the multi-annual Summer Works Scheme (2016-2017), €30 million is now being allocated for vital gas works and electrical upgrades in schools.

The majority of works will be carried out in schools over the summer months, so as to minimise disruption to students, teachers and other school staff.
This is positive news for schools. It will also provide an important capital injection to the construction sector and boost job creation.
Permanent link | Categories:
Posted on March 04, 2016 by Alan Kelly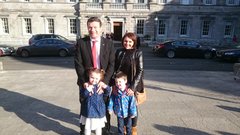 Pictured with Regina and my two children Aoibhe and Senan outside Leinster House during the first day of the 32nd Dail.
Permanent link | Categories: