Campaign Launch Limerick - Kemmy endorses Kelly!
Posted by Alan Kelly on April 03, 2009 at 10:29 PM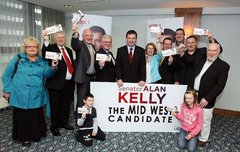 Today we formally launched my campaign in Limerick and I was delighted to have my party leader Emaon Gilmore there. It was also attended by Jan O'Sullivan TD, as well as a host of Cllrs and local candidates. I was delighted also to have a number of the Kemmy family present as well to show their support.
I am the only candidate from the Mid West from any of the main political parties and this places a heavy responsibility on me as I have seen directly what has happened in this region over the last 6 months. I have talked to the workers in Dell and the other factories that are going to be closed. I have also spoken to the owrkers across other sectors that are facing redundancy in the coming months. I know many of them. They live near me. Indeed, many are friends and even relatives.
That is why I feel it is important to elect someone who has a first hand knowledge of what these people are going through.
In my presentation I spoke of the issues I feel need to be addressed in the Mid West; jobs, workers rights, graduates placement, broadband, tourism, health services and incubation services for SMEs.
Eamon spoke of the need for the Mid West to have someone who could look after their interests and he also spke of the qualities of my candidature (which I'm far too modest to go into here!).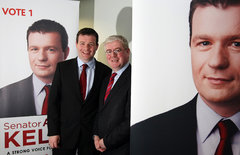 I have a great relationship with the Limerick Labour party. they very much treat me as one of their own and that is something I do cherish. It goes back to the campaign to elect Jan O'Sullivan into Jim Kemmy's seat in 1998. I was very much a part of that team. The team in Limerick are working very hard for me and I very much appreciate that.
There was one little ancedote today. Jim Kemmy's grandnephew is also called Jim Kemmy and he was there today to support me. That was nice. The line went out that Jim Kemmy Jnr endorse Alan Kelly. So thansk to Joe (his granddad) and Mike (his dad) for being so supportive.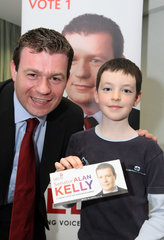 I have said this so many times before, that people know that I'm not jumping on the bandwagon, but Jim Kemmy is one of my political heros. there are many reasons why this is so, but most of all it is because of his integrity - that great man was second to none in that department.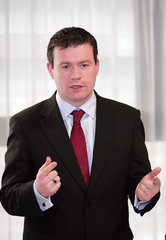 Permanent link | Categories: Arts Sport & Tourism • Education • Enterprise Trade & Employment • Health • Limerick • Joe Kemmy • Jan O Sullivan • Joe Leddin • Thomas Hannon • Mid West. Limerick • North Tipp • North Kerry • Joe Kemmy • Jim Kemmy • Tom Shortt • Ginger McLoughlin