Rugby Rip Off: Disgraceful
Posted by Alan Kelly on April 28, 2009 at 11:53 AM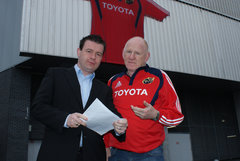 Just to get something off my chest. It is incredibly unfair to see the extent to which rugby fans are being ripped off by airline companies ahead of the Heineken Cup final in Edinburgh.
One of Munster and Leinster (The Southern Province hopefully) will be playing yet it will cost you €560 odd euro to fly from Dublin to Edinburgh return over Saturday on Sunday whereas on the Monday when there is no game on, it costs a mere €30.
The same applies with flights to and from Shannon which typically cost about €30 but for the game will cost €490 approx. That is reckless profiteering by airlines on the back of Irish sports fans. Cllr Gerry McLoughlin is in full agreement on it and I would never like to get into an argument with him.
As a politician, legislator and rugby fan I want to do something about it. We should have legislation that protects consumers from being ripped off when it comes to major events such as sports matches/concerts.
When the price of a product or service can jump from €30 to €560 in the space of four days, something is wrong.
Anyway on to the match, you will be seeing me there at Croke Park no doubt. I'll be waking up in Dingle that morning but will be in Jones Rd in plenty time for kick-off. Have to make the usual calls to sort out tickets.
I expect the sports media to make Munster strong favourites after the last win. I'm still optimistic for Munster but think it will be a close game.
Permanent link | Categories: Arts Sport & Tourism • Consumer Affairs • Munster • rugby • Limerick • gerry mcloughlin • alan kelly • heineken cup