Blog Categories
Entries matching the category "rugby"
Posted on May 02, 2009 by Alan Kelly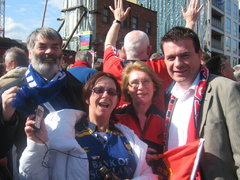 Thankfully I held back on booking the trip to Edinburgh. Going on form, Munster should have won this game easily but this was essentially a derby match and as the cliché goes, at a derby, form goes out the window.
The atmosphere at Croke Park was terrific though and credit to both sets of fans. I used the occasion of the match to pick the political brain of Proinsias De Rossa. As we walked about saying hello to friends and fans, I absorbed as much as I could from Labour's only Irish MEP, a man of equal integrity and ability.
Permanent link | Categories: Arts Sport & Tourism • munster rugby • eamon gilmore • alan kelly • prionsias derossa • munster
Posted on April 28, 2009 by Alan Kelly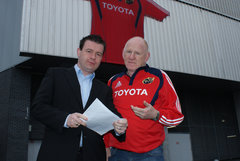 Just to get something off my chest. It is incredibly unfair to see the extent to which rugby fans are being ripped off by airline companies ahead of the Heineken Cup final in Edinburgh.
One of Munster and Leinster (The Southern Province hopefully) will be playing yet it will cost you €560 odd euro to fly from Dublin to Edinburgh return over Saturday on Sunday whereas on the Monday when there is no game on, it costs a mere €30.
Permanent link | Categories: Arts Sport & Tourism • Consumer Affairs • Munster • rugby • Limerick • gerry mcloughlin • alan kelly • heineken cup
Posted on April 12, 2009 by Alan Kelly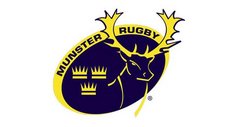 Today Today was another sweet victory for my rugby team. It was one of the most ocmplete performances I have ever seen from the team. They were all fantastic, but I thought the backs were majestic - all of them. Mafi's pass for one of the try's was shere brillance, while Paul Warwick has really shown what he can do recently and is making long distance drop goals look simple!
I really enjoyed the match. I was outside meeting the people beforehand as usual and many were again thanking me for my fixture lists from the beginning of the season. It was amazing how many actually showed them to me in their wallets - good to know they came in useful.
Permanent link | Categories: Arts Sport & Tourism • Munster rugby