Blog Archive
Posted on December 05, 2016 by Alan Kelly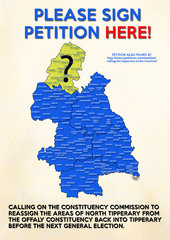 I am calling on every one in Tipperary to sign this petition before January 6, 2017, the petition will then be sent as a submission to the constituency commission.  The countdown has now commenced to the next boundary review report which should be completed by Summer 2017. We need to make sure that the electoral commission get a very clear understanding that breaking county boundaries is not acceptable, particularly for large counties like Tipperary.
Earlier this year over 10,000 people from North Tipperary were forced to vote in the Offaly constituency in the General Election.  This is a decision that they were not consulted on enough and which flies in the face of common sense considering they're represented locally on Tipperary County Council. 
Posted on November 22, 2016 by Alan Kelly
I welcome the announcement by the Minister for Education, Richard Bruton, that 159 primary and special schools in Tipperary are to benefit under the minor works grant scheme
Each school will get a fixed sum of €5,500 and then they're allocated €18.5 per pupil on the basis of their 2015/16 figures.
This is extremely valuable money for the school as it allows them to carry out vital minor works such as the replacement of doors or painting works for example, which need to be attended to urgently and on a frequent basis. This will also be of benefit to the students who will learn in an improved environment."
Permanent link | Categories:
Posted on November 22, 2016 by Alan Kelly
I welcome the confirmation from Minister Shane Ross in the Seanad that no railway will close but it caused unnecessary fears across rural Ireland.
Minister Ross must secure the necessary investment to make our railway lines the success that they can be.  Our railway network is crucial for attracting investment into our rural towns.
If we want people to use our trains, we need certainty on their future, timetables that are convenient for working people, and investment to improve speeds and reliability.
Permanent link | Categories:
Posted on November 14, 2016 by Alan Kelly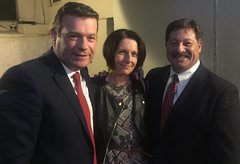 I was delighted to accompany First Data executives to Nenagh last week as they met with the local authority and local businesses to update them on their plans for their new and exciting research and development centre in the town.

The company had a large team in Ireland last week led by their CAO Tom Higgins. Speaking to the local chamber of commerce he confirmed that work is well underway in relation to the move and that the company is aiming to commence the recruitment process for their centre very soon. A separate First Data team spent time in Mid West visiting local colleges last week.

The work on the site will commence early in January once all assessments and tendering are concluded and it's aimed to have the building and full site ready by the summer with some employees on site by the the third quarter of 2016. It is hoped many of their future employees will be local to the area or family members working elsewhere in Ireland or abroad wishing to return home.

I was delighted to spend a number of days meeting with First Data executives last week and I'm thrilled with the progress being made.
Permanent link | Categories: