Blog Archive
Posted on November 16, 2015 by Alan Kelly
I am delighted to announce that five Tipperary Schools have been listed as part of the schools building programme for the period of 2016 - 2021.  The five Tipperary Schools are Sn Mhuire na Trocaire, Cahir, Gaelscoil Chluain Meala, Baile Gaelach, Gaelscoil Charraig Na Siuire, the amalgamation of St Colmcille's NS & St Joseph's NS, Templemore and

Colaiste

Phobail

Ros Cré. 

The five Tipperary

 projects which will proceed to construction between 2016 and 2021. 



This represents an extra investment in the education sector and construction industry, and is a further indication of the Labour Party's commitment to education in Tipperary.  
Permanent link | Categories:
Posted on August 03, 2015 by Alan Kelly
I welcome the opening of the registration process for over 70s free GP care last week.  
Anyone who is over 70 and does not have a medical card or GP visit card is now eligible to sign up for free doctor's visits. The service will be available from today.
I am delighted that those over 70 years of age can now avail of the free GP care scheme. This was a key focus for my colleague and the Minister for Primary Care, Kathleen Lynch, and builds on the recent successful launch of free GP care for under 6s. The fact that we are now at this juncture proves that Labour is delivering in Government and recognises the need to support and strengthen primary care services.
Permanent link | Categories:
Posted on July 31, 2015 by Alan Kelly
I have announced major reforms to the Building Regulations that will slash costs and reduce red tape for people who want to self-build their homes.
Under the reforms, people building single dwellings or extensions will be given the choice of opting out of statutory certification and may instead show by alternative means that they have met their general obligation to build in accordance with the minimum requirements of the building regulations. Additional guidance, including a Sample Preliminary Inspection Plan, will be published to assist with this process.
Permanent link | Categories:
Posted on July 31, 2015 by Alan Kelly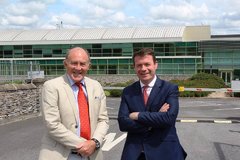 Good news this morning with the announcement of up to 300 jobs in Cashel. World-leading pharmaceutical company, Amneal, have today announced the creation of between 250-300 jobs.
The company has purchased the old Cordis Site in Cashel which has been vacant since 2011. The news follows confirmation of the sale of the site by Solidus.
...
Having met with Solidus on several occasions and assisted in the completion of the sale, I am delighted that this day has come. Tipperary has a huge deal to offer multinational companies like Amneal and I look forward to assisting them as they set up their Cashel site. Access to talent and good infrastructure are vital for investments of this size – Amneal will find both here in Tipperary.
Permanent link | Categories:
Posted on July 31, 2015 by Alan Kelly
Having been in touch with the CEO of the Courts Service, Brendan Ryan, he informed me that the Courts Senior Management Team have agreed to the implementation of the key recommendations within the Report on the Review of Court Services in Co. Tipperary. This is extremely positive news for all of Tipperary and follows consistent representations by myself at the most senior level.
The key recommendations to be implemented are;
Permanent link | Categories:
Posted on July 30, 2015 by Alan Kelly
I welcome the news that 88 childcare facilities in Tipperary have been awarded grants today as part of a €7m scheme for early years services.
Facilities in the local area which benefit from the fund include: Ladybird's Playschool & Childminding Service in Nenagh, Laethanta Sona Montessori Pre-School in Roscrea, The Old School House, Pouldine and Tumbletots Playschool in Clerihan, Clonmel.
The scheme covers large scale capital funding, essential medium-scale maintenance, and the upgrading of ICT equipment. These grants will help facilities keep up with the demands of a busy modern childcare service. The news comes as Labour launched their new 'Let's Talk About Childcare' campaign this week.
Permanent link | Categories: