Blog Categories
Entries matching the category "jan%20osullivan"
Posted on March 07, 2009 by Alan Kelly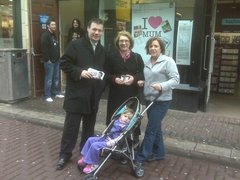 I was out again in Limerick with Jan O'Sullivan, Cllr. Tom Hannon and Cllr. Joe Leddin as well as a number of their colleagues. As the only Mid West candidate, I feel a real sense that the people of the area want to have someone from their end of the constituency representing them in Brussels. It is coming across in spades!
Permanent link | Categories: Limerick • Jan OSullivan • Mid West • Tom Hannon • Joe Leddin