Blog Categories
Entries matching the category "enterprise%20trade%20"
Posted on January 19, 2012 by Alan Kelly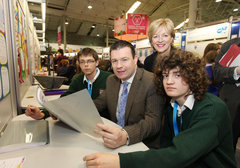 I visited the 2012 Young Scientist Exhibition last week and came across many interesting projects which demonstrate that there are Tipperary teenagers out there putting their brains to work in the food and science sectors. I met with schools from Borrisokane, Thurles and Roscrea during the day. It is only when you see that many enthusiastic kids under one roof you think, yes, there are brilliant students out there and they can ensure the future of innovative indigenous business. There was an incredibly high standard of local entries, which illustrates that North Tipperary students are among the best in the country.
Permanent link | Categories: Enterprise Trade & Employment • Young Scientists •